Giving great service is your #1 mission during
the holiday season. What can you do to motivate
your team? We asked counter managers to share
their go-to tips.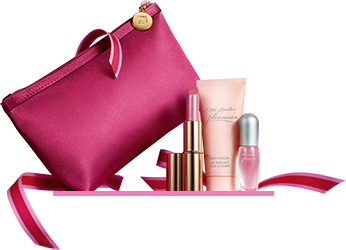 "I hold rallies to practice with
my Beauty Advisors and I always
make sure that my personal
excitement about the Holiday
and everything Estée Lauder
has to offer influences my team.
Getting excited and recruiting
with them is important. I have
to set the example."

—DANI KILBY, DILLARD's (US)
"I keep small prizes on hand to
give my team for meeting their
goals. It keeps my already highly
charged team even more
competitive during the holiday
season."
—ELMARI MC HELM,
EDGARS V&A (SOUTH AFRICA)
"Communication is the priority.
There are so many promotions
and events going on—the team
needs to be aware. Last year, we
had multiple team rallies to revisit
holiday learning lab, the magazine
and the transition triangle."
—JORDAN CARMEN,
YOUNKER'S WEST ROADS (US)

"Preparation is the key to a
successful holiday season and
a happy team. We pre-wrap
fragrance and set up wrapping
bars. We also keep ruled
appointment books on hand to
schedule January and February
appointments for customers."
—LISA COTESTA AND STELLA
MCKENCHIE, MYER
MELBOURNE (AUSTRALIA)
"It's all about service. I lead by
example by always giving the
customer my undivided attention.
I remind my team that our goal is
to create happy and unforgettable
experiences from beginning to
end for every customer."
—VIOLET MARTINEZ,
MACY's (US)
"I prepare for the season by
scheduling team meetings with
interactive games on how to
engage the holiday shopper,
create festive party makeup
looks and more! It gets the team
excited and prepared to meet
all of our customer's needs."
—JAYNE HOLMES,
DEBENHAMS
MEADOWHALL (UK)

Kristy Wu, counter manager at Macy's at Watertower
Place Chicago and one of our Best of the Best winners
this year, shares how she leads her team at holiday.
"The key to my holiday success is having tons of energy
to charge my team and create excitement at the counter.
Introducing Advanced Night Repair and Advanced
Night Repair Eye is also a must! I've made it my mission
to touch every customer with this dynamic duo."
–Write PA announcement
scripts for different promotions
during holiday.
–Make a holiday checklist,
delegating and holding the team
accountable for specific tasks.
–Create customized value gift
sets with clear bags
–Be station ready!